"YOU NEVER CHANGE THINGS BY FIGHTING THE EXISTING REALITY. TO CHANGE SOMETHING, BUILD A NEW MODEL THAT MAKES THE EXISTING MODEL OBSOLETE"
R. BUCKMINSTER FULLER.
I love the Automobile. I love cars, the smell of oil, factory canteens, design o ce linoleum, race track paddocks, industrial design, wrenches. I like to drive Shelbys and electric vehicles. Even more so, I love people who live for Automobile, the discussions with engineers or the parking lot custodian, the thoughts of the environmentalists, tutorials from a craftsman, the skills of the mechanics, the surprises from the Japanese designers or the confidence of the Germans, the artists' critiques, and the ideas that arrive from the children that like to create word games with motorway signs.
Unfortunately, during these meetings, I quickly came to discover that many people are frustrated because the product never fully pays tribute to the people who created it or to those who buy it. Cars are too expensive or boring, are never powerful enough and always pollute too much, they are over-stylized or not rewarding enough… Is it human nature to be constantly dissatisfied or does the car play a role in this?
During these recent years, we gave ourselves the means to deconstruct the model of the automotive industry to understand the source of the problem (the worship of the Golden Calf on wheels); and it has since been remodeled to be more contemporary, and to a scale that puts the clients, workers, investors, housewives, designers, weekend drag-racers, pedestrians, and artists, rabbits… at the heart of the system.
Here are some excerpts from the subjective and unusual yet thoughtful tale of this scientific adventure.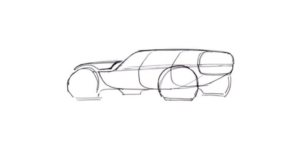 ROAD REPORT: AUTOMOBILE HAS MISSED THE TURN OF THE 21ST CENTURY
Stuck in a spiral of complex and archaic excess which require huge investments, the automotive industry has driven a eld of consumer yearnings (purchasing power, ecology, …) and profits.
The automotive business model does not take into consideration two major developments of the 21st century:
1. On one hand, computer technology has created a new economy based on systems which are open to user empowerment. Instantaneous management of micro-transaction fees has opened the way for the development of this technology. When income from managing that sort of trafic on the information highway is far greater than the cost of the search engine itself, it becomes even more attractive economically to offer free access. This new Internet-based economy is analogous to the automotive world, where in a structure networks and a critical mass of users are already well established. Jeff Jarvis, a well-known Internet impresario, shares the same analysis in his book, "What Would Google Do?" (HarperCollins – 2009). He explains that this vision, which gives freedom back to consumers, also meets their great expectations and is already a solid habit anchored throughout the population.
2. On the other hand, environmental awareness of the finiteness of natural resources is central to the debate. Planned obsolescence of manufactured goods can no longer constitute a business model. Today, the average car costs more than 21.000 € for some nearly 1300 kg (800 kg for the mechanics and 500 kg to satisfy marketing fantasies). Under these circumstances, we cannot require customers to change cars like shirts. The business model must promote durability and lightness of the automobile; and the marketing argument must reside on more promising issues than simply the nervousness of the engine; and considering that a light car will always be sportier and safer.
"THE ONE WHO PAYS IS THE ONE WHO MAKES MONEY OUT OF IT."
Instead of surfing on these two major trends, the constant renewal of strategies is pulling car brands away from the essence. Marketing-type speech carries on with slogans along the lines of "my car is an animal that looks like an actress in vogue" while design jargon has stalled on "the shape of the radiator grill is the result of 100 years of history". Moreover, both neglect to consider the future of over 300,000 employees.
Similarly, to impose upmarket models to over-indebted customers seems risky in the short run. And in an era when it is already seen as obsolete to talk about 2.0, it is surprising to continue to restrain cars with proprietary systems.
The survival of all these supposedly good ideas is based solely on two factors: the hope that costs will continue to fall through the relocation of production means (although predictable collateral damages are now obvious); and the assumption that such an outdated vision can be imposed on new consumers who are seen as "not fully awakened" because their countries are emerging.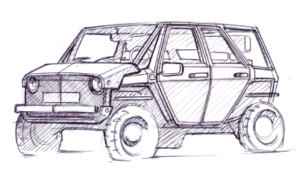 I have great respect for the automotive design trades. The elegance of proportion is a skill requiring great sensitivity. However, zigs and zags in chromed plastic, blinking lights, gaping mouths, scarified sheet metal, sterile ethnic tattoos, a gladiator attitude… are counter-productive toward the social, economic, and ecological problems they are supposed to solve.
All these signs devoid of meaning are merely traces let by my designer friends, unwillingly enrolled in a fratricidal competition where the goal is to draw attention to one's sketch in the secret hope of being selected to send a CV to the competition where, of course, the grass is always greener.
These aesthetic aberrations also reflect a desire to sell ever more expensive and useless items to people who cannot a ord them, who sometimes need a car to get to work, and other times to get a sense of freedom and escape from the problems of everyday life by stepping on the accelerator.
How can we dream when car manufacturers insist on sharing with us their techno-commercial existential anxieties with their torrent of incomprehensible innovations? Am I really more modern because the rain itself operates the wipers? Does having the control to adjust the temperature separately, down to an action of a degree between a passenger and driver, make one a cool guy?
How are we not to feel trapped, literally and figuratively, by the world of automotive brands cluttered with logos, swamped by waves of stifling plastic mock-elephant leather. It is one thing to wear a Lacoste polo shirt, it is quite another to be eaten by a crocodile.
Indeed, the extreme difference in scale (price, size, weight, life, societal role, environmental footprint …) with other consumer goods is a prominent feature of the automotive industry. The messages it conveys to society, therefore, have particular significance requiring a careful thinking through.
"IT IS NOT BECAUSE TECHNOLOGY CAN DO IT, THAT THERE IS CLEVERNESS INSIDE"
All this would not matter if these compulsory figures were not designed with such serious and precious deliberation; if they were not served up with an hallucinatory discourse about so-called modernism; if they did not call for an ever-increasing gluttony of equipment to compensate for the lack of meaning; if they did not force upon us aggressive attitudes born of the frustration of our denied identity. Today, we need to think twice about how to dress so as not to clash with the inevitable perfection of our car. The automobile object speaks only to itself, a car-eat-car world. We are dealing with a serious case of Creutzfeldt-Jakob disease, the Mad Car Disease.
There, I said it.
I think it would be much more profitable (in terms of industrial investments, profit margin, ecology, consumer satisfaction and security) to take a more fun and adventurous approach in order to satisfy our instinctive appetite for novelty, one that is less crass and materialistic. The car needs to be as esteemed as a book, and no longer as a catalog. It is not an end in and of itself – it is a means. In terms of dreams, we need to see how they measure in places like Hollywood or Las Vegas.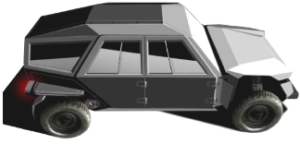 DESIGN AS A TOOL TO REPAIR SOCIOECONOMICAL BREAKDOWNS
How can we design a car that expresses to its users the potential of what they can do with it?
It is time for the industry to trust users' ability to invent. If it allows outside companies (suppliers, services, insurance, rental …) to freely develop their offers on car manufacturers' products designed as market places, the auto industry would benefit largely from such a revival of the local economy.
Rather, the desire to control everything works against the car industry. The continuity of lines which merge everything, not only requires lengthy studies and a difficult and expensive manufacturing process, but it also traps us (as well as profits) in a low-ceilinged universe.
To reveal the architectural matrix of the car we must disconnect its practical essence (a safe and practical body, engine, suspension, wheels, harmonious proportions) from extraneous functions (lighting, doors, comfort…). It is necessary to not force integration of the various elements such as wheels in the wheel arches, bumpers with the grill, headlights in the wings. The aesthetic result of this pragmatic construction between the functional elements and regulations, is iconic and brings a sense of safety and solidity.The car of the future is not disposable but rather durable and easily recyclable.
It is interesting to note that the results of our research on this subject are joined by the ever-respectable intuitions of Philippe Starck in his design of the V+ for Volteis at the last Geneva Motor Show.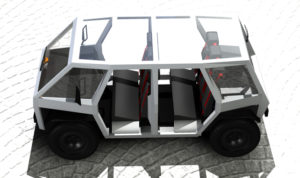 "THE END IS IN THE MEANS"
A new car range, easy to sell and produce, could absorb in a relevant manner much of the production overcapacity from manufacturers. But we can push the argument further by realizing that the design of a light, basic, open car would work very well with an overall folded-sheet metal design and at windows. Such a simple technique would allow for production with no industrial investment, nor specific tool or stamping press. A shed, a folding machine and a welding clamp would su ce. An honest car which proudly reveals how it was engineered. This offers the possibility to install micro-production centers nearest to target markets.
As for the mechanics, autonomous platforms already exist, such as the TREXA electrical Enertube. More convenient than the chassis of the ever missed Beetle, which allowed juggling from a buggy to a Combi, from a sedan to a coupe. Electric propulsion has the particular advantage of being as simple and flexible as a washing machine.
ALWAYS LEAVE SIMPLICITY ALONE. THE FREE CAR PROJECT
Social marketing studies offer a clear conclusion. Everyone needs an affordable car : the young, seniors, the unemployed, families (second or third car), craftsmen, jet-setters on the loose and now emerging countries. The first selling argument: the price!
Yet, the current business model favors premium automobiles, more "generous" in equipment (at the cost of huge investments). Even if the planet could digest ever-fatter cars, I am not convinced that customers would like to be seen as wasteful and fat suckers. Moreover, we cannot decently bet on the ever-increasing purchasing power of customers or that the systematic use of consumer credit is a viable solution for anyone. Yet some low-cost brands are successful enough to earn margins of 7%, thanks to design intelligence (and relocation, which is somewhat less intelligent).
So, how can manufacturers be encouraged to focus on "inexpensive" cars with supposedly meager yield in revenues?
We must absolutely develop a disruptive and pro table business model to satisfy the demand from customers for lower prices, while trying to bring a smile back to shareholders, workers, industrialists, squirrels, craftsmen, entrepreneurs…
The car manufacturer only benefits from the sale of the car. If we look at the life of a popular car once sold, we see that its use is at the crossroads of many other financial flows:
– Functional costs (energy, insurance, maintenance, parking, tolls…) account for 3700 € per year,
– The "average shopping basket" is 2900 € per year at shopping malls accessible only by automobile,
– A car designed as an open source market place, allowing for the creation of new applications (car sharing, tourism, micro-entertainment, mass prestige, tuning…) would generate a business turnover of more than 1000 € per year, by our estimates…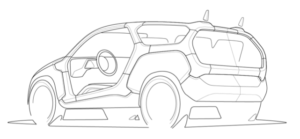 "A CAR COULD COST ONLY 5% OF THE BUSINESS TURNOVER GENERATED BY ITS USE!"
Nowadays, the average lifespan of a traditional car before destruction is 15 years (certainly longer in the case of our project).
By totaling the various average annual expenditures (3700 + 2900 + 1000 = 7600 € per year) during the 15-year life of the car, we get a business turnover of 114, 000 €. This figure can be multiplied by two or three in the case of shared use.
Moreover, costs to design, produce and deliver locally such an automobile can be effortlessly maintained below 6000 € ( for example Auto-Journal estimates the manufacturing cost of the Logan at 3200 €, whether gas or electric considering that battery cost depreciation to term is similar to fuel consumption costs).
Due to its mere existence, an under 6000 € car creates an average turnover of 114,000 € in merchandising and services. And these sectors will have covered the costs of research and development of supply.